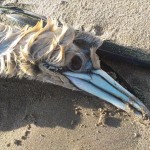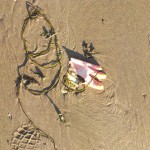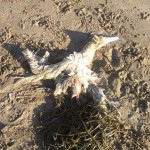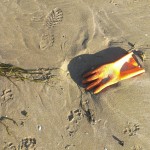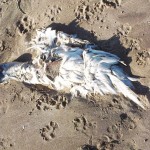 Dead birds and rubber gloves, pouches of Chinese fresh drinking water, sections of discarded fishing nets strewn across the tourist beach, stinking of rotting carcasses and seaweed. I think this might be what they call pollution or maybe the destruction of one of the finest surfing beaches in North Devon.
Photographs taken on Woolacombe beach May 2013.
In maritime law, flotsam, jetsam, lagan and derelict describe specific kinds of wreck. The words have specific nautical meanings, with legal consequences in the law of admiralty and marine salvage. Flotsam is floating wreckage of a ship or its cargo. Jetsam is part of a ship, its equipment, or its cargo that is purposefully cast overboard or jettisoned to lighten the load in time of distress and that sinks or is washed ashore. Lagan (also called ligan is cargo that is lying on the bottom of the ocean, sometimes marked by a buoy, which can be reclaimed. Derelict is cargo that is also on the bottom of the ocean, but which no one has any hope of reclaiming.